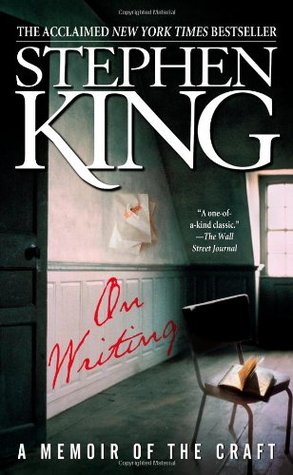 Stephen King's On Writing: A Memoir of the Craft is a part memoir, part writing manual, and part master class by one of the bestselling authors of all time, this superb volume is a revealing and practical view of the writer's craft, comprising the basic tools of the trade every writer must have. This book is essential for both who love to write or who love Stephen King.
This book binds together three very different parts: an autobiography, the part teaching the art of writing according to Stephen King, and a description of the author's current (circa 2000's) life and work. I haven't read much of the King's fiction book, but On Writing:A Memoir of the Craft displays what a great talent he is in the world of written words.
King offers advice in between the text for aspiring writers along with his own story of becoming a writer and continuing to live life as one. His advice on being a writer:
I don't believe writers can be made, either by circumstances or self-will (although, I did believe those things at once). The equipment comes with the original package. Yet it is by no means unusual equipment; I believe large number of people have at least some talent as writer and storytellers, and that those tales can be strengthened and sharpened.
On realising the fact that hard work is essential and why continue to write even 'when you don't feel like':
Realisation that stopping a piece of work just because it's hard, either emotionally or imaginatively, is a bad idea. Sometimes you have to go on when you don't feel like it, and sometimes you're doing good work when it feels like.
On why alcoholism is martyr to creativity and his sufferings due to addiction:
What you got was energy and a kind of superficial intelligence. What you gave up in exchange was your soul. It was the best metaphor for drugs and alcohol my tired, overstressed mind could come up with.
[…] At the worst of it I no longer wanter to drink and no longer wanter to be sober, either. I felt evicted from life.
Vocabulary is essential for every writer. It is the most important tool and the most common one too:
Common tools go on top. The commonest of all, the bread of writing, is vocabulary.
Put your vocabulary on the top shelf of your toolbox, and don't make any conscious effort to improve it.
On writing with clarity:
One of the really bad things you can do to your writing is to dress up the vocabulary, looking for long words because you're may be a little bit ashamed of your short ones. This is like dressing up a household pet in evening clothes. The pet is embarrassed and the person who committed this act of premeditated cuteness should be even more embarrassed. Make yourself a solemn promise right now that you'll never use 'emolument' when you mean 'tip'. Talk only plain and direct.
On why use of grammar is essential:
You'll also want grammar on the top shelf of your toolbox. […] Grammar is not just a pain in the ass; it's a pole you grab to get your thoughts up on their feet and walking. If you start to freak out at the sight of such unmapped territory just remind yourself that rocks explode, Jane transmits and mountains float.
I think his following words is a universal advice for any writer who wants to improve his skill of writing:
If you want to be a writer, you must do two things above all others: read a lot and write a lot.
On why reading with diversity is essential:
Every book you pick has its own lesson or lessons and quite often bad books have more to teach than the good ones.
Ultimately, King explains on what writing is all about:
Writing isn't about making money, getting famous, getting dates, getting laid, or making friends. In the end, it's about enriching the lives if those who will read your work and enriching your life as well.