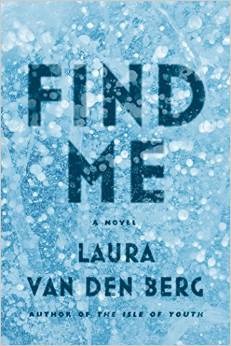 Laura van den Berg's debut novel FIND ME is a rare novel. You won't find it on everyone's bookshelf, and if you do, make a plea to let you read it, stop everything, and start reading. In this, you explore a dystopian future in which the major cause is an 'epidemic of forgetting'— a disease that begins with memory loss and silver blisters on the skin.
FIND ME is a gripping, imaginative, with some grim fun elements, tale of a young woman named Joy Jones who is a grocery store clerk working outside Boston and nursing an addiction to cough syrup, an attempt to suppress her troubled past, when the epidemic starts. Abandoned by her mother in winter when she was a baby, Joy grew up in foster care and group homes. She is haunted by the original abandonment and by a series of disturbing events, some of which are shrouded in the mysteries of memory. However, Joy seems to have a single advantage. She is one of a small group of people who are immune to the memory disease.
Shortly afterward, Joy is invited to a former state psychiatric hospital in Kansas where doctors claim to be studying those who are immune to the disease in order to find a cure. She shares a room with a young man named Louis and in their group are two twins. Pilgrims appear outside the hospital windows. While watching television at the hospital Joy realizes that her mother is an undersea archeologist who hosts a television show called Mysteries of the Sea. She begins to research who her mother is and to imagine where she comes from, and what her identity might be.
The first half of the novel shifts between the present and the flashbacks. Characters appear and disappear as they do in real life without handing their reason of coming and going. The second half of the novel is a road trip as she travels through America to find her mother.
One thing that I like about this book is the van den Berg's focus on the character's life rather than the epidemic itself. The narrative is gripping, her words won't let you go even if you are not reading the book. Well-written. This novel expresses loneliness in so aching and beautiful manner that you'd want to ignore the outside world and lie on your couch and spend time reading it. I find this book honest, highly addictive, and engrossing as the text of the book is enough to raise one's curiosity.
FIND ME is here to stay longer in a reader's memory until the fiction comes to life itself.
4.5 out of 5!
A theory on why stop remembering: there is a part of our story that we do not know how to tell to ourselves and we will away its existence for so long that finally our brain agrees to a trade: I will let you forget this, but you will never feel whole.