Laura van den Berg is the author of two mesmerising short stories collection and one of the most intriguing novel of this year, FIND ME.
---
Hi Laura and thank you for agreeing to this interview. Congratulations on your new book, FIND ME— a mystifying, and a gripping novel. Tell me a little about yourself and your background?
Thank you for reading the book! Find Me is my third book, but my first novel. I have published two story collections previously. I grew up in Florida, but have lived in New England on-and-off for a long time. At the moment I'm living in upstate New York, as a writer-in-residence at Bard College.
What was the genesis for FIND ME?
Joy's voice, first and foremost, and also the two-part structure—one part set in the hospital, one part set on the road—was an aspect I had in mind early on as well.
In FIND ME, one thing I like most is that you have focused one the character's life rather than epidemic. How important you think that for a writer to emphasis on characterisation rather than the plot?
Since I started with Joy's voice, the book naturally grew into a very interior one. I was always more interested in exploring the personal disaster of Joy's life, and how she might begin to recover from that disaster, than the "big picture" consequences of a major epidemic. Joy was always my north star.
Previously, you have published two short stories collection, WHAT THE WORLD LOOK LIKE WHEN ALL THE WATER LEAVES US and THE ISLE OF YOUTH. So, how does working on a novel compare to working on short stories?
It's very different! The biggest changes were process oriented, in that I had to move away from my usual incremental approach. With a short story, I can write a scene in the morning with coffee, another in my office at school, another on the bus or train—and all those little bits can actually add up to something. With my novel, I found that ultimately I couldn't work incrementally, in the midst of daily life, and so a lot of the most important work was done at residences, when the book could have my life for a set period of time, or during stretches at home where I could lock myself in a room for many hours.
I think you might have been asked this question quite a few times, but I would like to ask you again. In FIND ME, you use a first-person narrator and in your two story collections you also use young women as first-person narrators. What attracts to you about this approach?
Since I often start with voice—what that means for me is that I get a line or series of lines stuck in my head and it/they won't leave me alone—the decision is made intuitively. I almost always hear an "I" voice and a woman speaking.
After reading, THE ISLE OF YOUTH, I observed that you're  fluent about describing places naturally. How do you write about the places you don't quite know? What type of research do you have to do to achieve this?
I do research—travel guides like Lonely Planet are among my favorite resources—and look at images and video, but I also usually make up some aspects of the landscape up too. I'm more interested in creating that sustained dream for the reader than in adhering to literal fact.
I have also observed that your characters have a 'lonely' manner of living. Do you think loneliness is essential for humanity? 
Oh my, I'm not sure I'm quipped to answer that question, but I can say that I think a lot of people are lonely and I've certainly experienced, and continue to experience, my fair share of loneliness; it's a state of being that interests me deeply.
Is 'dystopian' your favourite genre?
I would say that my favorite genre is fiction and all that it encompasses, but I do have a soft spot for genre-bending work, for fiction that uses genre in unexpected ways.
When did you decide that you want to be a writer?
After taking a fiction workshop in college. I was maybe 18 or 19.
What about the craft writing? How do you approach your writing?  Do you have a writing routine? 
When I'm working on a specific project, I try and work on it every day, but I also go through long period of times where I'm not writing at all, just thinking and reading and looking, and those stretches often turn out to be just as important.
What do you prefer: Pen or Computer? And how do you stay organized (any methods, systems, tools you use)?
I use a laptop, though I remain committed to a certain level of disorganization, for better or for worse. I write over drafts; I don't archive in a particular way. I don't even back-up my work as often as I should, though I'm trying to get better about that!
What motivates you to write?
It's how I process the world and my experiences in it.
How do you decide on the settings for your stories? How do they come to you?
Sometimes I start with place—"Antarctica" in the The Isle of Youth, for example, grew out of my long-running fascination with that place—but more often, I'm thinking of how a particular place might interact with the emotional and psychological landscapes of the narrator.
What do you like to do when you're not writing?
I'm into visual art, film, hanging out my husband, taking my dog for walks, travel.
Are you working on anything at the moment? When can we see your next work?
I'm working on a new novel project, set in Cuba, and also new stories.
Do you have any advice for aspiring/emerging writers?
Read everything, and be very persistent.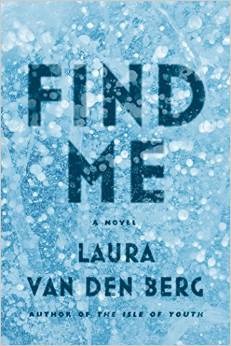 About Her Reading Life
What do you prefer while reading: paperbacks or ebooks?
Paperbacks, for sure!
Do you re-read books? One book that you would read again & again?
I do reread sometimes. One of my favorites to reread is Marguerite Duras's The Lover. 
Your favourite author(s)?
Haruki Murakami, Jim Shepard, Yoko Tawada, Jean Echenoz, Marguerite Duras, Jean–Philippe Toussaint, Edward P. Jones, Jenny Erpenbeck, Michael Ondaatje—just to name a few!
What book(s) are you reading at present?
I just finished Tom McCarthy's Satin Island and am about to start Ishiguro's The Buried Giant.