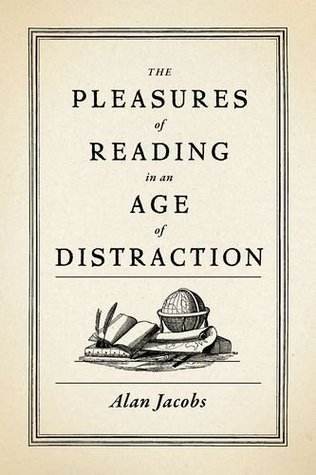 There is no better person who understands a reader than Alan Jacobs. And he does well describe that in his book The Pleasures of Reading in an Age of Distraction. Alan Jacobs is a Distinguished Professor of Humanities in the Honors Program at Baylor University in Texas, USA. He is a prolific author, having written about a dozen books and countless articles for various scholarly periodicals and magazines. He wrote Pleasures of Reading for those who have given up on reading for various reasons, but I think most prominently because of the nature of the world we now live in, a world full of distractions.
Distractions are everywhere, smartphone lying on desk, the television in the other room, the computer screen you are staring right now, intact a distraction is just a mouse-click away from you right now. I assume, after reading this post, you will click on the new tab and WELCOME! To the World of Distractions.
In contrast to the more methodical approach of Mortimer Adler's classic How to Read a Book, Jacobs offers an insightful, accessible, and playfully irreverent guide for aspiring readers. Each chapter focuses on one aspect of approaching literary fiction, poetry, or nonfiction, and the book explores everything from the invention of silent reading, reading responsively, rereading, and reading on electronic devices. One page at a time, or one book a week, doesn't matter as long as you are reading.
Distractions are harmful for readers. They eat a lot of our reading time, and after that we are left with no reading appetite. I was a voracious smartphone reader, a month or two ago in a post I talk about the same issue and by buying an e-reader, can it solve my problem of getting distracted while reading on a smartphone? I can say, I got quite a positive feedback. It had been a few weeks and I am devoting better time than before on reading.
This book does concentrate on people who do not enjoy reading at all as they think the activity of reading takes too much time and effort. I would recommend this book to them as it offers some explanation to that. And this one won't consume much of your time.
4 out of 5