Chalk by Paul Cornell
Blurb: Paul Conrell is a versatile TV/novel writer for Doctor Who, Batman & Robin & Wolverine. In his latest book, Cornell  plumbs the depths of magic and despair in this brutal exploration of bullying in Margaret Thatcher's England.
The Collapsing Empire by John Scalzi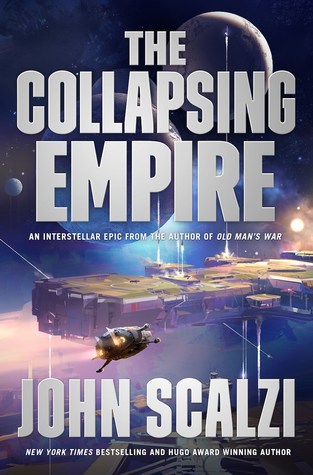 Blurb: The first novel of a new space-opera sequence set in an all-new universe by the Hugo Award-winning, New York Times-bestselling author of Redshirts and Old Man's War.
Luna: Wolf Moon by Ian McDonald
Blurb: In an unstable lunar environment, the shifting loyalties and political machinations of each family reach the zenith of their most fertile plots as outright war erupts. Luna: Wolf Moon continues Ian McDonald's saga of the Five Dragons.
---
Are you on Facebook? Would you like to receive new posts in your Facebook feed? Hit the LIKE BUTTON HERE!
Do you want to talk about books? Ping me on Goodreads!
See you on Twitter!