I recently got my hands on Buzz Books 2017 Spring and Summer edition. After reading many excerpts, I am excited to share some titles that I am eagerly looking to read this year. Yet, I might not be able to read and finish all of them, the sole purpose of sharing these titles right now is that if you decide to read any of them, I hope to read your views on them.
The Last Hack: A Jack Parlabane Thriller
Publication Date: 4 July
Blurb: Internationally bestselling author Christopher Brookmyre, winner of the McIlvanney Prize for Scottish Crime Novel of the Year and finalist for the CWA Goldsboro Gold Dagger for his most recent novel, Black Widow, is renowned for his black humor, remarkably well-drawn characters, and killer twists. His new Jack Parlabane thriller, The Last Hack, is his most unstoppable novel yet.
Sounds really exciting!
Magpie Murders by Anthony Horowitz
Publication Date: 6 June
Blurb: From the New York Times bestselling author of Moriarty and Trigger Mortis, this fiendishly brilliant, riveting thriller weaves a classic whodunit worthy of Agatha Christie into a chilling, ingeniously original modern-day mystery. Masterful, clever, and relentlessly suspenseful, Magpie Murdersis a deviously dark take on vintage English crime fiction in which the reader becomes the detective.
He certainly impressed me with his Sherlock Holmes' book. Let's see what else he has in bag of mysterious tricks?
The Answers by Catherine Lacey
Publication Date: 6 June
Blurb: An urgent, propulsive novel about a woman learning to negotiate her ailment and its various aftereffects via the simulacrum of a perfect romantic relationship.
I was fascinated by Lacey's writing in Nobody Is Ever Missing and I am looking more or same with her upcoming book.
Since We Fell by Dennis Lehane
Publication Date: 17 May
Blurb: Since We Fell follows Rachel Childs, a former journalist who, after an on-air mental breakdown, now lives as a virtual shut-in. In all other respects, however, she enjoys an ideal life with an ideal husband. Until a chance encounter on a rainy afternoon causes that ideal life to fray. As does Rachel's marriage. As does Rachel herself.
Sounds like Shutter Island all over right? 
Publication Date: 6 June
Blurb: A saga of love, family ties, and twisted passions from the #1 New York Times bestselling author of The Obsession.
I have never read Nora Roberts before, may be it's a good time to start?
Ten Dead Comedians by Fred Van Lente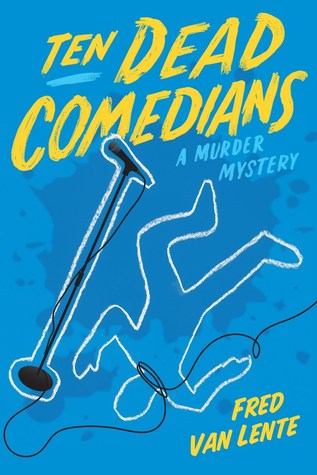 Publication Date: 17 July
Blurb: A darkly clever take on Agatha Christie's And Then There Were None and other classics of the genre, Ten Dead Comedians is a marvel of literary ventriloquism, with hilarious comic monologues in the voice of every suspect. It's also an ingeniously plotted puzzler with a twist you'll never see coming!
Another Murder Mystery on the list of To Read and I think this one looks more closer to aforementioned Agatha Christie's title.