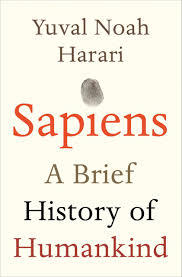 100,000 years ago, at least six human species inhabited the earth. Today there is just one. Us. Homo sapiens. 
If you want to read at least one book in 2018, make sure you read Harari's Sapiens.
The book is recommend by many over the past few years on the Internet but few have talked about why read this book and in my opinion one of the best published work in the history of mankind. I know Harari's work is famous and that might be a turn off for you but give me a chance in this review to let you convince to give it a shot in the coming year. Read this one book, even if you don't have any reading plans or generally do not read books, or haven't read it.
Why? Because this book will transform the way you think about everyone you are surrounded and yourself. Harari's work which was published in 2011 for the first time, did not spike my interest until later this year and I think, it has a major impact on me. In Sapiens, Harari talks about how out of 6 similar species our own, Homo Sapiens, not only survived over 70,000 years including the environmental conditions but is actually the reality of How Humans Got Smart?
Continue reading "BOOK REVIEW: Sapiens by Yuval Noah Harari" →